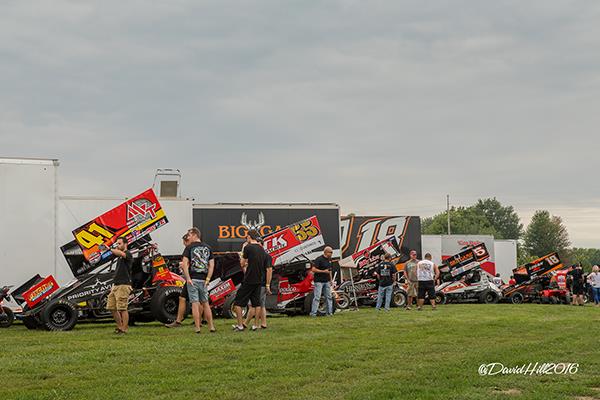 ---
Osky Challenges Return in 2018 with Two Big Nights of Racing!
Osky Challenges Return in 2018 with Two Big Nights of Racing!
(Bill W) January 10, 2018 – For the first time since 2013, the Osky Challenges at the Southern Iowa Speedway in Oskaloosa will feature two big nights of racing! On Monday, August 6, the Musco Lighting Front Row Challenge will again pay $20,000 to win to the 410 sprint cars headlining the event! The IMCA Racesaver division will again be in action on Monday night.
A return to racing on Tuesday, August 7 will see the Searsboro Telephone Company Ultimate ASCS Challenge featuring the ASCS National Sprint Car Series. The supporting class on Tuesday will be announced soon! Hot laps will be at 7 p.m. both nights.
Last year may have marked the most exciting Front Row Challenge in history. Shane Stewart topped a three-way battle for the $20,000 victory ahead of Brad Sweet, and Kyle Larson, who started in row seven. Larson won the Ultimate Challenge at Oskaloosa back in 2011 and 2012. Jon Stanbrough won the last UC held in 2013, and was followed to the line by Larson.
"We are beyond excited to be back racing two nights in Oskaloosa," says TMAC Promotions Terry McCarl. "We're bringing a number of open wheel divisions to Oskaloosa, and we're working on putting the last pieces of the puzzle in for Tuesday. Sprint car fans should be excited for August 6 and 7 again!"
Changes in Ticket Sales
The top three rows in every section will be reserved. Previously, all seats were reserved in the grandstands. If you had tickets in 2017, you can renew starting Tuesday, February 6 by calling 515 957-0020. Those fans have until Tuesday, April 17 to reserve their tickets.
"It was turning into a real mess at the ticket office with all reserved seats the day of the show," says Terry. "This will help everything flow smoother in the ticket line on race day, and give fans the option of where they'd like to sit."
Tickets will be $30 for Monday and $25 for Tuesday. Children's tickets will be $15.
Infield Party Passes will be $25, with children admitted for $5 there. No vehicles over eight feet tall are admitted in the infield. Production vehicles only are allowed, and there is no scaffolding allowed.
If tickets for both days are purchased by Monday, July 30, grandstand tickets will be $50 for both days.
For more information on the Front Row Challenge, visit www.OskyChallenges.com!
Bill W Media
Monroe, IA USA
sprntcar@hotmail.com
Website: www.OpenWheel101.com
Twitter: @BillWMedia
Back to News