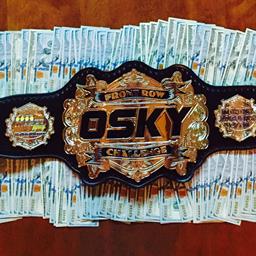 ---
Rens Trucking Offering "BC Bonus" at Front Row Challenge!
Rens Trucking Offering "BC Bonus" at Front Row Challenge!
(Bill W) July 27, 2017 – Jeff Rens of Rens Trucking will be offering a "BC Bonus" honoring Bryan Clauson at this year's $20,000 to win 22nd Annual Price Chopper Front Row Challenge presented by Musco Lighting and Searsboro Telephone Company on Monday, August 7 at the Southern Iowa Speedway in Oskaloosa!
Rens Trucking is offering yet another contingency to the FRC, offering $425 for 17th place in the main event for the 410's, and $75 for 17th place in the 305's. In addition, public donations will be accepted for the "BC Bonus" up until the event!
Jeff said today, "The Front Row Challenge is on August 7, exactly one year after Bryan's passing. As much fun and excitement he gave us as fans, as a fan, I wanted to do something in return in his memory. It's not often 17th place gets you a bonus, but I think this is a small, fun way to continue to never forget Bryan and what he did for our sport. I have been a sponsor on Terry (McCarl) and Carson's cars, and friends with their family for a few years now, but wanted to do something a little different, and help with this great event that they work so hard to promote."
About Rens Trucking
Rens Trucking is a family owned trucking company established in 2008, located in Sioux Center, Iowa. They specialize in all types of livestock transport, by way of gooseneck trailers. They have a forty foot trailer with a deck, used for feeder pigs and Isoweans, a 40 foot flat floor trailer for market hogs and all sizes of cattle, and also a 36 foot flat floor trailer for the smaller loads. Check out their Facebook page, or give them a call with your livestock transport needs. Call Jeff Rens at 712 470-4221.
Other FRC News…
Discount Infield Party Passes are available now at Oskaloosa True Value Hardware store, located at 202 1st Ave East in Oskaloosa, Iowa. Passes can also be obtained by visiting Slideways Karting Center and Mini-Golf, located north of Knoxville, Iowa on Highway 14. If you are planning on purchasing an Infield Party Pass, you can purchase them now for $20, $5 off the price the day of the race!
Allan Holland of Hoseheads.com has announced that he will be presenting $500 to the highest finishing Pennsylvania Posse driver.
The top eight point getters through time trials and heat races will be eligible for the new DeBerg Concrete Keith Hutton Memorial King of the Hill Max. The four cars in positions 1, 3, 5 and 7 in points will face off, as will cars in positions 2, 4, 6 and 8. Yes, four cars will go at it for two laps! The top two finishers in each event will face off in the finale worth $1,000 from DeBerg Concrete and a starting spot on the pole of the feature! All drivers, other than the winner, will receive a right rear tire from Hoosier.
To purchase tickets or if you have questions, call 515 957-0020 weekdays from 10 a.m. to 4 p.m.!
For more information on the Front Row Challenge, visit www.OskyChallenges.com!
Front Row Challenge Winners
1996 Night 1 Travis Cram
1996 Night 2 Terry McCarl
1997 Rain
1998 Tyler Walker
1999 Jac Haudenschild
2000 Jeff Shepard
2001 Lance Dewease
2002 Tyler Walker (2)
2003 Lance Dewease (2)
2004 Jeff Shepard (2)
2005 Danny Lasoski
2006 Kenny Jacobs
2007 Rob Chaney
2008 Daryn Pittman
2009 Sammy Swindell
2010 Sammy Swindell (2)
2011 Sammy Swindell (3)
2012 Daryn Pittman (2)
2013 Brian Brown
2014 Brian Brown (2)
2015 Brad Sweet
2016 Daryn Pittman (3)
Bill W Media
Monroe, IA USA
sprntcar@hotmail.com
Website: www.OpenWheel101.com
Twitter: @BillWMedia
Back to News