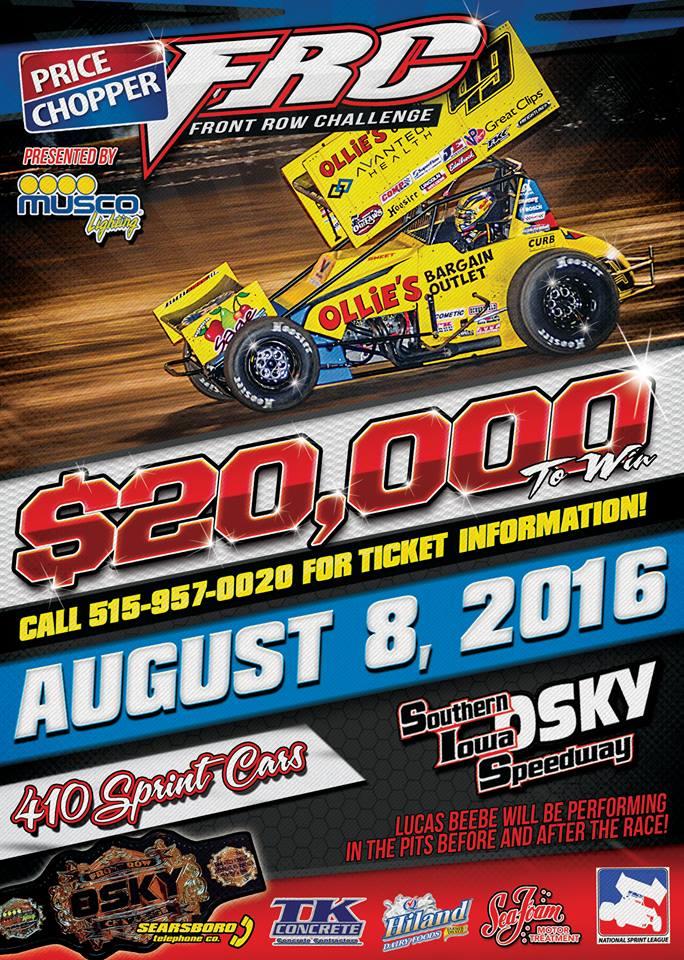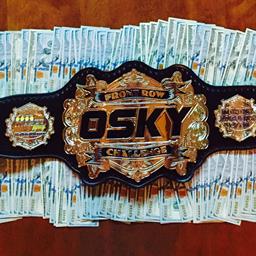 ---
Price Chopper Partners with Front Row Challenge!
Price Chopper Partners with Front Row Challenge!
(Bill W) August 1, 2016 – The anticipation continues to build for the $20,000 to win 21st Annual Front Row Challenge, and Price Chopper will be the title sponsor for this year's event in exactly one week, on Monday, August 8! The event will again be sanctioned by the National Sprint League. Presenting sponsors include Musco Lighting, Don Long's Searsboro Telephone Company and Hi-Land Dairy.
Price Chopper grocery stores now have five locations in the Des Moines area. They are looking forward to being a part of the Front Row Challenge at the Southern Iowa Speedway in Oskaloosa. This is their first opportunity to be a part of the racing community in the Iowa area, and they are excited about the possibilities of being a part of one of the richest sprint car races in the country! You can visit Price Choppers online at www.PriceChopper.com to find a location near you!
Brad Sweet is the defending champion of the race. Kyle Larson, and Ironman 55 winner Rico Abreu, have already expressed their intentions of running at the Front Row Challenge. They will be joined by Dave and Dale Blaney. Former event winners Sammy Swindell, Brian Brown and Danny Lasoski are expected, as well as NSL regulars Craig Dollansky, Ian Madsen and many more!
Not only will the winner go down in history and take home the prized Front Row Challenge championship belt, drivers will be shooting for a number of awards and contingencies.
Country Builders Construction is stepping up with some large cash bonuses. $500 cash will be going to not only quick time, but the B main winner, the A main hard-charger, and all heat race winners. In addition, heat winners will receive a $500 gift certificate from All Pro Cylinder Heads, a SnowPlow snow pusher from TheSnowPlow.com and a five pound canister of protein from Nutrishop in Maple Grove, Minnesota. The feature hard-charger will also receive a KSE Power Steering pump (a $500 value).
One of the more popular awards is the Mechanic of the Race. Again, on the line will be the 3/8 Micro Lithium Impact Kit courtesy of Mark Stuchel Snap-On Tools franchisee..
TK Concrete will return as the "Keith Hutton Memorial King of the Hill" challenge race. This popular event will again pit drivers against each other in one-on-one match races to earn the right for the feature pole and $1,000 cash!
Other prizes to be given away include product giveaways from Vortex Wings, Schoenfeld Headers, HRP, Pro Shocks, Saldana Racing Products and All Star Performance.
All of these giveaways are in ADDITION to the contingencies handed out by the National Sprint League!
Knoxville muffler rules will be in effect at the Front Row Challenge, while all other NSL rules apply.
Fan Giveaways
The drivers won't be the only benefactors at the Front Row Challenge! Five 32" Visio TV sets will be given away to fans. Also, as is customary, there will be 5,000 Mardi Gras beads, over 200 hats and t-shirts, and products from Sea Foam Motor Treatment.
Tickets
To purchase your tickets for the FRC, call Front Row Challenge Enterprises, LLC at 515 957-0020. Reserved grandstand seats are $30 for adults and $15 for children 12 and under. Infield party passes are $25, but they can be purchased in advance at Slideways Karting Center for $20.
To keep updated and get more information on the FRC, including historical data, ticket information, photos and more, log on to www.OskyChallenges.com!
Back to News