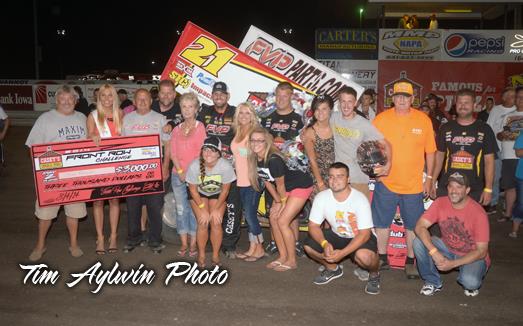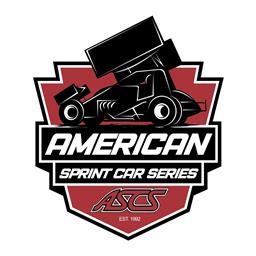 ---
Brian Brown Repeats as Front Row Challenge Champion!
(Photo Credit: Tim Aylwin)
Bill Wright - Oskaloosa, Iowa (August 4, 2014) – Brian Brown became the sixth driver to repeat as Musco Lighting/Casey's General Stores Front Row Challenge presented by Don Long's Searsboro Telephone Company champion with his victory in the 19th edition of the race Monday night at the Southern Iowa Speedway in Oskaloosa. The Grain Valley, Missouri driver joined Tyler Walker, Jeff Shepard, Lance Dewease, Daryn Pittman and Sammy Swindell (3) as a multi-time champ on the half-mile with the Lucas Oil ASCS National Series.
$50,000 1999 champion, Jac Haudenschild, paced the field early in the main event from his pole position ahead of Russ Hall and Wayne Johnson. Brown had moved into fourth by lap four. With six laps completed, Randy Hannagan came to a stop in turn one, bringing out the caution. Haudenschild led Hall, Johnson, Brown and Tony Bruce Jr. back to green flag racing.
On the next lap, Brown moved by Johnson for third, and on lap nine he drove around Hall for second. Haudenschild set a torrid pace as the lead pair hit lapped traffic three laps later. On lap 15, Johnny Herrera slowed in front of the leader, giving Brown an opportunity for the lead that he would capitalize on.
The last half of the race, Brown pulled away, lapping up to the eighth place in a dominating performance. "It's not often you pass Haud in a higher lane than he is," said Brown in Victory Lane. "He got caught behind a slower car and I was able to get by. I want to thank the whole team. I want to thank Tony Stewart…he was kind of here helping all night. He's been watching 'the Cushion' the last couple of nights and he is sharp. It's an honor to call him my friend, and an honor to have him on the team, if it's only for a night."
Stewart addressed the crowd after the heat races to a large round of applause.
Haudenschild followed Brown to the line ahead of Hall, Seth Bergman and Sam Hafertepe Jr. Mark Dobmeier, Wayne Johnson, Christopher Bell, Brad Loyet and Blake Hahn rounded out the top ten.
Loyet took the Front Row Challenge after drawing the pole in a redraw. Due to possible inclement weather, the TK Concrete Keith Hutton Memorial "King of the Hill" match races were scrapped and the redraw was conducted. Loyet received a $1,500 driver's suit from Hinchman Racewear for taking the challenge. Promoter Terry McCarl also put up $1,000 for Loyet's top ten run, and he also received an HRP top wing for his ninth place finish.
Seth Bergman banked a HRP nose wing for winning Sea Foam heat race one. Bill Balog received Schoenfeld Headers for taking Tasos' Steak House heat two. Wayne Johnson received a Vortex nose wing for winning Ostrich Racing Engines heat three. Loyet won a $500 gift certificate from Brown & Miller Racing Solutions for winning heat four, and Brown took home a Vortex nose wing for winning heat five. Josh Baughman and Trey Starks won the B mains.
Hall took home a $300 bonus from Searsboro Telephone Company as the highest finishing Knoxville 360 regular. Tyler Drueke also banked $300 from the Butler County Speedway for being the highest finishing Nebraska 360 Sprint driver. Tony Shilling took home $200 for the highest finishing Sprint Invaders Association driver.
Cody Ledger, who flipped out of the park in turn two during the first heat race, received John Lemon's $100 Hard Luck Award. He was uninjured. Hafertepe won a KSE Steering Pump as the hard-charger, while Roger Hall, crew chief for his son Russ, won Mechanic of the Race, and a 3/8 cordless 18-volt impact set courtesy of Des Moines area Snap-On Tools dealers.
19th Annual Musco Lighting/Casey's General Stores Front Row Challenge presented by Don Long's Searsboro Telephone Company Results:
Front Row Challenge Main Event (started), 29 laps: 1. 21, Brian Brown, Grain Valley, MO (5) 2. 9w, Jac Haudenschild, Wooster, OH (1) 3. 29, Russ Hall, Pleasant Hill, IA (2) 4. 23, Seth Bergman, Snohomish, WA (6) 5. 15H, Sam Hafertepe Jr., Sunnyvale, TX (14) 6. 13, Mark Dobmeier, Grand Forks, ND (15) 7. 77x, Wayne Johnson, Knoxville, IA (4) 8. 31, Christopher Bell, Norman, OK (12) 9. o5, Brad Loyet, Sunset Hills, MO (22) 10. 17, Blake Hahn, Sapulpa, OK (10) 11. 17x, Josh Baughman, Odessa, TX (17) 12. 55, Trey Starks, Puyallup, WA (16) 13. 12, Tyler Drueke, Eagle, NE (19) 14. 28, Jonathan Cornell, Sedalia, MO (9) 15. 3, Nate Van Haaften, Otley, IA (13) 16. 99, Bill Balog, Brookfield, WI (8) 17. 18, Tony Bruce Jr., Owasso, OK (3) 18. 45x, Johnny Herrera, Albuquerque, NM (20) 19. 53, Jack Dover, Springfield, NE (7) 20. 39c, Travis Rilat, Forney, TX (21) 21. 22H, Randy Hannagan, Pittsboro, IN (18) 22. 41, Jason Johnson, Eunice, LA (11). Lap Leaders: Haudenschild 1-14, Brown 15-29. KSE Hard-charger: Hafertepe. Hard-charger: Loyet.
Sea Foam Heat one (started, qualified for feature), 8 laps: 1. Seth Bergman (2) 2. Blake Hahn 17 (1*) 3. Christopher Bell (4*) 4. Nate Van Haaften (6*) 5. Travis Rilat (5) 6. 9JR, Derek Hagar, Marion, AR (8) 7. 3A, Billy Alley, Bennet, NE (3) 8. 47AU, Trevor Reynolds, Perth, WA, Aust. (9) 9. 35L, Cody Ledger, Omaha, NE (7)
Tasos' Steak House Heat two (started, qualified for feature), 8 laps: 1. Bill Balog (4) 2. Jonathan Cornell (1*) 3. Russ Hall (6*) 4. Trey Starks (3) 5. Mark Dobmeier (8*, penalized two spots for jumping) 6. 94, Jeff Swindell, Bartlett, TN (7) 7. 1, Sean McClelland, Tulsa, OK (5) 8. 111, Kaley Engstrom, Rhome, TX (2)
Ostrich Racing Engines Heat three (started, qualified for feature), 8 laps: 1. Wayne Johnson (1) 2. Tony Bruce Jr. (2*) 3. Jason Johnson (4*) 4. 44, Chris Martin, Ankeny, IA (3) 5. Tyler Drueke (6) 6. 5H, Chase Johnson, Penngrove, CA (7) 7. 7TAZ, Tasker Phillips, Pleasantville, IA (5) 8. 4c, Tyler Courtney, Indianapolis, IN (8)
Brown & Miller Racing Solutions Heat four (started, qualifieid for feature), 8 laps: 1. Brad Loyet (1) 2. Jac Haudenschild (4*) 3. 33v, Mike Van Haaften, Pella, IA (2) 4. 17w, Cole Wood, Auburn, CA (5) 5. Josh Baughman (7) 6. Randy Hannagan (8) 7. 10V, Calvin Landis, Knoxville, IA (6) 8. 22, Tony Shilling, Knoxville, IA (8)
Vortex Racing Products Heat five (started, qualified for feature), 8 laps: 1. Brian Brown (1) 2. Jack Dover (2*) 3. Sam Hafertepe Jr. (4*) 4. 87, Aaron Reutzel, Clute, TX (3) 5. 82, Bryan Clauson, Noblesville, IN (6) 6. Johnny Herrera (5) 7. 95, Matt Covington, Glenpool, OK (7) 8. 27B, Patrick Bourke, Gypsum, CO (8)
B Main #1 (started), 12 laps: 1. Josh Baughman (2) 2. Tyler Drueke (4) 3. Travis Rilat (6) / 4. Mike Van Haaften (1) 5. Matt Covington (8) 6. Derek Hagar (5) 7. Chris Martin (3) 8. Chase Johnson (7) 9. Tasker Phillips (10) 10. Tyler Courtney (11) 11. Trevor Reynolds (9) DNS – Tony Shilling, Cody Ledger
B Main #2 (started), 12 laps: 1. Trey Starks (2) 2. Randy Hannagan (3) 3. Johnny Herrera (5) / 4. Aaron Reutzel (1) 5. Bryan Clauson (4) 6. Jeff Swindell (6) 7. Calvin Landis (8) 8. Patrick Bourke (7) 9. Billy Alley (10) 10. Kaley Engstrom (9) DNS – Cole Wood, Sean McClelland
---
Submitted By: Bryan Hulbert
Back to News