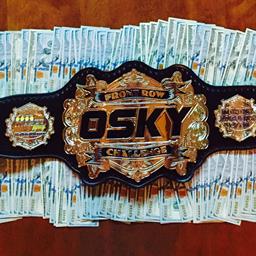 12/11/2013
Osky Challenges
---
Ultimate Challenge Takes a Break in 2014!
Ultimate Challenge Takes a Break in 2014!
(Bill W) December 11, 2013 – Unfortunately, for non-wing fans, the Ultimate Challenge, traditionally held on Tuesday night of Southern Iowa Sprintweek at the Southern Iowa Speedway in Oskaloosa will be taking a break in 2014. Both USAC and Ultimate Challenge promoter Terry McCarl came to the understanding that it was the best course of action for the entities involved.
McCarl explained the decision. "(USAC Competition Director) Jason (McCord) called me and indicated that it was a hard night for his guys to race without another one in the area to go with it. Logistically, it has just become too tough with the costs to fill a field. We both came to an understanding that it was best for the Ultimate Challenge, USAC and the Southern Iowa Speedway to not hold the event in 2014. It's sad for me, because I love the non-wing shows so much."
The veteran promoter and racer has seen plenty of adjustments in his career and this will be another. "There are changes in life and you have to roll with the punches as they come," says McCarl. "We have had a great run to this point with the Ultimate Challenge. The reason we started the race back in 2002 was because Bill McCroskey and I both enjoy non-wing racing. We saw some shows as we were traveling in Indiana and we really enjoyed them. We thought it would be fun to bring them here to Iowa, and it really has become a passion for me. I just love watching those guys in the corner at Oskaloosa battling it out."
McCord regrets that the Ultimate Challenge will not run this year. "For me personally, it's heartbreaking," he says. "I love working with Terry and the whole staff there in Oskaloosa. That part really stinks. We could probably keep on trucking if we had one or at least two other shows up in that area for our drivers. It's difficult for those guys. Many have full-time jobs, and it's hard to get away on a Tuesday for just one race."
USAC has sought other tracks to run their sanction in the area, but has come up empty, mostly due to the busy schedule in central Iowa. "Trying to find a racetrack or promoter to do anything around the weeks of the Knoxville Nationals is difficult," says McCord. "That is understandable. That's the unfortunate truth of the matter for Terry and everyone who has built up this great event. He really loves non-wing racing and the fans in that area do to. That's the unfortunate part."
McCord noted the decreasing fields in the event as an obstacle right now. "I certainly don't want anyone to think it's something that USAC wants to happen," he says. "If I could tell Terry we can have twenty-four cars that would be one thing, but the past few years the counts have declined as it has become just the one race in the area. Collectively, between Terry and myself, we decided we'd take the one year off and try to find a way to bring it back in 2015. That's our hope and dream."
McCarl turns nostalgic when thinking about some of the past Ultimate Challenge events. "I would argue with anyone on Earth that the year Jesse Hockett won the Ultimate Challenge was the best event I've ever seen in sprint car racing," he says. "We had two sets of heats and every single one of them were good. Some were unbelievably great! Then we had a feature finish that went three-wide for the win…if we hadn't have had transponders, I don't know if we would have known who won. After every race that night, we saw fans on their feet cheering, and that's what you look for and thrive on as a promoter. Hopefully, we can bring that thrill back, but at this time, it's just not in the cards."
McCarl and his wife Lori are already focusing on the Front Row Challenge and have a lot of surprises in store not only in 2014, but for the 20th running in 2015. "On the bright side, it frees us up to focus on the Front Row Challenge and making it an even bigger and better event," says Terry. "It also gives us a rain date, which is good for us and the fans. We have some things in store, and we're working on some big announcements coming up involving making the Front Row Challenge an even bigger and better event."
Renewal tickets for the 19th Annual Front Row Challenge in 2014 go on sale in February. For more information, call TMAC Promotions at 515 957-0020. For further information, stay tuned to www.OskyChallenges.com!
Bill Wright
Bill W Media
Monroe, IA USA
sprntcar@hotmail.com
Twitter: @BillWMedia
---
Article Credit: Bill Wright
Submitted By: Bill Wright
Back to News