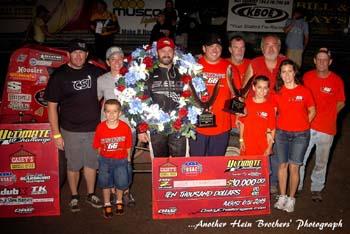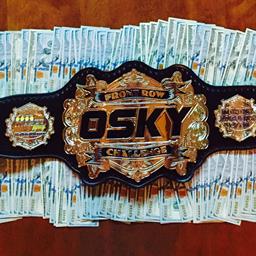 ---
Jon Stanbrough Wins $10,000 Ultimate Challenge!
(Bill W) Jon Stanbrough claimed his first career Casey's General Stores Ultimate Challengeon Tuesday night at the Southern Iowa Speedway in Oskaloosa. Rain plagued the event, which was shortened to twenty lap because of the wet conditions. The rain also washed away the Hinchman 305 feature.
Both Qualifiers and the "King of the Hill" Match Race were scrapped to get the feature in. The event was set up by passing points, and it was Stanbrough who earned the pole position and took off to an early lead in the scheduled 30-lapper.
Chase Stockon chased him ahead of Kyle Larson. With two laps in the books, Wes McIntyre rolled to a stop on the frontstretch. Behind the lead trio, were CJ Leary and Brady Bacon. Stanbrough took off from the field again in the Amati Racing #66.
Larson made quick work of Stockon for second after the restart, and before Bryan Clauson stopped to bring another yellow on lap eighth. Bacon and Dave Darland had traded fifth a couple of times before the caution. Four more laps were in the books before Chris Windom came to rest on the backstretch.
With drizzle falling, Stanbrough led the field back to green, and Bacon worked by Stockon for third, trailing his teammate Larson in the Hoffman Racing #69. That would prove to be the final running order, as CJ Leary got upside down after contact with Kevin Thomas Jr. on the 21st lap. Brandon Stevenson also tipped over avoiding the incident, and the rains began to fall harder, canceling the remaining activities.
Stanbrough's popular win came ahead of Larson, Bacon, Stockon and Jerry Coons Jr. Hard-charger Robert Ballou, who came back from a heat race flip, Tracy Hines, Justin Grant, Mitch Wissmiller and Tyler Courtney rounded out the top ten. Stockon, Larson and Hines won heat races and were rewarded with left rear Hoosier Tires. Ballou was awarded a KSE Steering Pump for hard-charger. Hunter Schuerenberg, who crashed wildly in his heat, was awarded $100 for the Hard Luck Award given by John Lemon.
The Hinchman 305 sprint cars could only get their heat races in. They were won by Ryan Jamison and Chris Walraven.
12th Annual Casey's General Stores Ultimate Challenge Results
A main (started), 20 laps: 1. 66, Jon Stanbrough, Avon, IN (1) 2. 69OT, Kyle Larson, Elk Grove, CA (3) 3. 99, Brady Bacon, Broken Arrow, OK (5) 4. 32, Chase Stockon, Sullivan, IN (2) 5. 37RW, Jerry Coons Jr., Tucson, AZ (11) 6. 12x, Robert Ballou, Rocklin, CA (19) 7. 4, Tracy Hines, Wilkinson, IN (6) 8. 21, Justin Grant, Piqua, OH (12) 9. 1, Mitch Wissmiller, Saybrook, IL (13) 10. 23c, Tyler Courtney, Indianapolis, IN (9) 11. 74x, Josh Hodges, Tijeras, NM (14) 12. 55, Nick Drake, Mooresville, NC (18) 13. 71, Robert Bell, Colfax, IA (15) 14. 71P, Dave Darland, Lincoln, IN (7) 15. 17RW, Kevin Thomas Jr., Cullman, AL (20) 16. 30, CJ Leary, Greenfield, IN (4) 17. 0, Brandon Stevenson, Holstein, IA (21) 18. 7K, DJ Brink, Sturgis, SD (16) 19. 21x, Chris Windom, Canton, IL (8) 20. 20, Bryan Clauson, Noblesville, IN (10) 21. 83, Wes McIntyre, McCordsville, IN (17) DNS – 12, Hunter Schuerenberg, Sikeston, MO. Lap Leader: Stanbrough 1-20. KSE Hard-charger: Ballou.
Heat one (started), 8 laps: 1. Chase Stockon (2) 2. CJ Leary (4) 3. Jon Stanbrough (8) 4. Tyler Courtney (5) 5. DJ Brink (3) 6. Robert Bell (7) 7. Robert Ballou (1) 8. Kevin Thomas Jr. (6)
Heat two (started), 8 laps: 1. Tracy Hines (1) 2. Dave Darland (3) 3. Chris Windom (4) 4. Josh Hodges (2) 5. Justin Grant (6) 6. Wes McIntyre (5) 7. Nick Drake (7)
Heat three (started), 8 laps: 1. Kyle Larson (2) 2. Brady Bacon (4) 3. Jerry Coons Jr. (1) 4. Bryan Clauson (5) 5. Mitch Wissmiller (6) 6. Hunter Schuerenberg (3) DNS – Brandon Stevenson
Hinchman 305 Results
Heat one (started), 7 laps: 1. 51J, Ryan Jamison, Mediapolis, IA (1) 2. 99, Matthew Stelzer, Omaha, NE (3) 3. 126, Stacey Alexander, Lacona, IA (2) 4. 67, Rodney Henderson, Gun Barrel City, TX (4) 5. 55, Matt Stephenson, Des Moines, IA (6) 6. 0, Mike Mayberry, Fremont, IA (5)
Heat two (started), 7 laps: 1. 28, Chris Walraven, Knoxville, IA (2) 2. 29, Steve Palmer, Des Moines, IA (1) 3. 57, Tasker Phillips, Pleasantville, IA (5) 4. 85, Bryan Wanner, Agency, IA (6) 5. 7, Nick Guernsey, Burlington, IA (3) 6. 2J, Zach Blurton, Great Bend, KS (4)
---
Article Credit: Bill Wright
Submitted By: Admin Account
Back to News