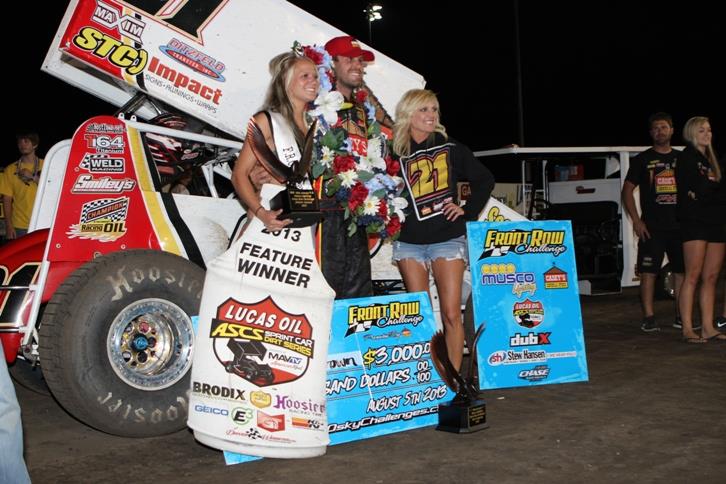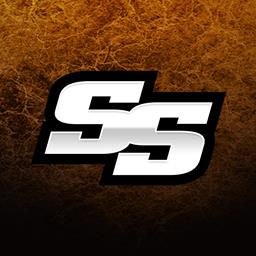 ---
Brian Brown – Front Row Challenge Win Good Lead-in to Nationals!
(Bill W) August 7, 2013 – Winning one of the most prestigious races of the year is a good lead-in to this week's Knoxville Nationals. Brian Brown and the Casey's General Stores/FVP #21 team won Monday's Front Row Challenge at the Southern Iowa Speedway in Oskaloosa, but their joy was taken away by the injury to Brian's hero, Tony Stewart, who was leading the event. Nonetheless, the Grain Valley, Missouri driver's focus year-round is the Nationals, and his quest to win it begins Thursday night.
You were able to win your heat, setting you up for the "King of the Hill" Match Race.
The track was pretty narrow, so it was good we drew a good number (outside row one).
Unfortunately, you were beat in the "King of the Hill", so you couldn't make good on your promise of taking the Front Row Challenge. You started fifth in the A.
We ran fourth or fifth most of the race. We really weren't making a lot of ground up. We didn't feel like we had much for the top three, especially Tony (Stewart). Then the crash happened.
What did you see from your perspective?
The track was blocked up and I kind of turned left and Cowboyed. I "Monster Trucked" an infield tire, but I was lucky not to hurt anything. We came out of that with the lead.
You were able to pull away and win from there. What does a win there mean to you?
The Front Row Challenge is a huge race for our resume. We were able to win it, but not the way we wanted. I would much rather have Tony healthy and us running third. Hopefully, he gets better soon and he'll be back running with us. He's not only a hero to me, but a huge icon in this sport.
At last week's 360 Nationals, things started with the 20th quick time of the night. How much did coming our 42nd in the order affect that?
Our number didn't help the situation. I don't think fast time was there, but Justin Henderson went out about ten cars later and was ninth quick. For whatever reason, I just wasn't able to go out there and lay a good lap down.
You were able to get through your heat and started back in row seven in the feature.
We got up to sixth pretty quickly. As the race went on, we got tighter. It made it tough for me to maneuver and we ended up seventh. It definitely wasn't the night we were looking for, but we were locked into the A main on Saturday and that was the most important part.
You were probably hoping for some cautions on Saturday, starting as far back as you were (19th) in the finale. Still it was a good charge to fourth.
That was the key. We just couldn't get the cautions we needed. I was hoping we could get one every six or eight laps. We went twenty-three non-stop. I was up to seventh or eighth by then and I was able to get a couple of cars there. To go from 19th to 4th with the caliber of competition we had there was a testament to our crew and not giving up.
With eighty-one cars in the field for the "Capitani Classic" coming out 11th quick was nothing to sneeze at.
We went out there (47th) and qualified pretty decent. The heats were brutal too, but we were able to run second in that.
Getting through the heat got you to a starting spot outside of row two for the feature.
We were actually able to get to second, but Terry got us back. We had a good race with Justin (Henderson) and ended up third. We were trying some things for the Nationals and they just didn't work. To be able to run third in that field and not feel good about your car was a good sign.
I know the team is as ready as it can be for the Nationals.
All of our focus year-round is the Knoxville Nationals, and here it is. There is skill involved, but you need a lot of luck too. We need to do a good job of getting ourselves in position on our qualifying night, and if we do that, I feel we have as good a chance as any. We can't put the cart before the horse, though.
Follow Brian on the Web, Twitter and Facebook!
Follow Brian at his website located at www.BrianBrownRacing.com!
Also keep up with FVP, Casey's and Brian on Facebook and Twitter at the following links…
Twitter Links – @BrianBrown21, @FVPRacing, @CaseysGenStores
Facebook Links
Brian Brown Racing – www.facebook.com/pages/Brian-Brown-Racing/200630163294222
Casey's General Stores – www.facebook.com/pages/Caseys-General-Stores/112073528804354
FVP Racing - http://www.facebook.com/FVPRacing?ref=ts&fref=ts
Other Web site info
Casey's: www.caseys.com
FVP: www.fvpparts.com
Brown's Bits
Brian has competed in the Knoxville Nationals on eleven occasions. He has made five championship events, including the last four. In 2007, he finished 13th (after starting 23rd), in 2009 he was 23rd (19th), in 2010 he was 14th (1st), in 2011 he was 7th (6th) and last year he was 2nd (4th).
About Casey's General Stores
Casey's General Stores is a Fortune-500 company (NASDAQ CASY) operating nearly 1700 convenience stores in 11 states through the Midwest. Known for its "Homemade-To-Go" pizza, sandwiches, donuts and bakery items, Casey's strives to consistently deliver quality gas, fresh kitchen-prepared food, clean environments and friendly service at every retail location. Casey's is currently the 12th largest c-store chain and sixth largest pizza chain in the United States.
About FVP
We are very excited to introduce our new line of automotive chemicals, oils and fluids to our product offering. These new products will be available at many retailers across the country. We continue to offer a full line of high quality oil, air, cabin air and fuel filters, plus a complete line of high quality batteries for multiple applications including cars, trucks, SUV's, commercial and other specialty vehicles. All products are made to OE manufacturer fitment specifications. FVP products are engineered to provide our customers with quality products that are equal or superior in performance to the major national brands at a competitive price. To learn more about our FVP products or to find out where you can have FVP products installed in your vehicle, visit us at www.FVPparts.com! FVP…The Confident Solution
SPLASH
In addition to our line of seasonal safety products, we are very excited to introduce a full line of SPLASH Wiper Blades. Our SafeView Performance Blades fit 95% of the vehicles on the road with quick and easy installation for everyone. The AccuVision Beam Blade offers memory curve steel, which provides uniform pressure for a clear wipe, without the streaks. Look for these great new SPLASH products! Whether it's keeping your windshield clean or free of ice, protecting your RV, boat or pool from freezing in the winter, or your sidewalk safe to walk on, SPLASH Products are what you need! Check out our new SPLASH website at www.SPLASHWash.com! SPLASH…SEE SAFELY!
Marketing Partner of the Week – Impact Signs Awnings Wraps / impact4800.com
Brian says – "David and Julie Goodson have a great family there. They also make sure our trailer looks great with the graphics they provide. We're proud to represent them."
The goal at Impact Sign and Lighting is to make selecting the right sign and lighting for your business a simple process for you. Impact can design, create, and install virtually any type of sign on awnings, poles, buildings and much more including racecars, of course! They will work with you from conception to completion and make sure you are completely satisfied. We'll give you personalized service, expert consultation, quick turnarounds, and reasonable pricing. Impact Sign and Lighting are responsible for the graphics on the Brian Brown Racing #21. Visit them on the web at www.Impact4800.com!
Associate Marketing Partner of the Week – WSIB Insurance
Brian says – "Insurance is one of those things you don't put a lot of thought into until something happens. WSIB Insurance covers our truck and trailer, and all of our equipment. They are very reasonable on price. If you are unlucky enough to have an incident, it's nice to know you have good coverage. They are active in NASCAR and IRL and are making inroads into the grass roots racing."
WSIB Motorsports Insurance is committed to being the most trusted motorsports nsurance authority. Their exclusive products allow them to innovate for the specific needs of their clients and provide high touch service and knowledge. Their insurance markets are known for their financial strength and stability. Their commitment to the motorsports industry allows them to provide cutting edge policy wording, competitive pricing and responsive claims handling. WSIB can access and provide solutions for most insurance coverage. Contact them with any of your insurance needs, and visit them on the web at www.WSIBInsurance.com.
Brian Brown Racing would like to thank Casey's General Stores, FVP, Searsboro Telephone Company, Impact Signs Awnings Wraps / impact4800.com, Champion Brands, SPLASH, Ditzfeld Transfer, Maxim Racing, Smiley's Racing Products, Weld Wheels, Housby Trucks, www.RateWin.com, Arctic Cat, K&N Filters, Hostiowa.net, FSR Race Products, TI64, Fuel-Safe Tanks, Awesome Racewear, Wolfe Eye Clinic, Bell Helmets, CP Pistons, Carrillo Rods, Vortex Wings, Penray, All Pro Cylinder Heads, Butler Built Seats, AkzoNobel Sikkens, AllDayParts.com, Tru Square, Jack Links, Deli Express, Snap-On Tools, Rod End Supply, KSE Racing Products, Winters Performance Products, Santomauro Racing Products, Cometic Gaskets, Kaeding Performance, Donovan, Magtech, ISC Racers Tape, Kinsler Fuel Injection, Racing Optics, Mothers Wax, Don's Truck Wash, Gardner Farms, Hoosier Tires, GoPro, XYZ Machining, Brown and Miller Racing Solutions, Peterson Fluid System, Red Devil Brakes, Schoenfeld Headers, ADD, 6B Apparel, Zips Energy Seeds, Bosch, NGK, Garrett Racing Engines, MSD and WSIB Insurance for all their support!
Bill W Media
Monroe, IA USA
Twitter: @BillWMedia
e-mail: sprntcar@hotmail.com
Brian in Victory Lane at Oskaloosa (Bryan Hulbert/ASCS Photo)
---
Article Credit: Bill Wright
Submitted By: Admin Account
Back to News