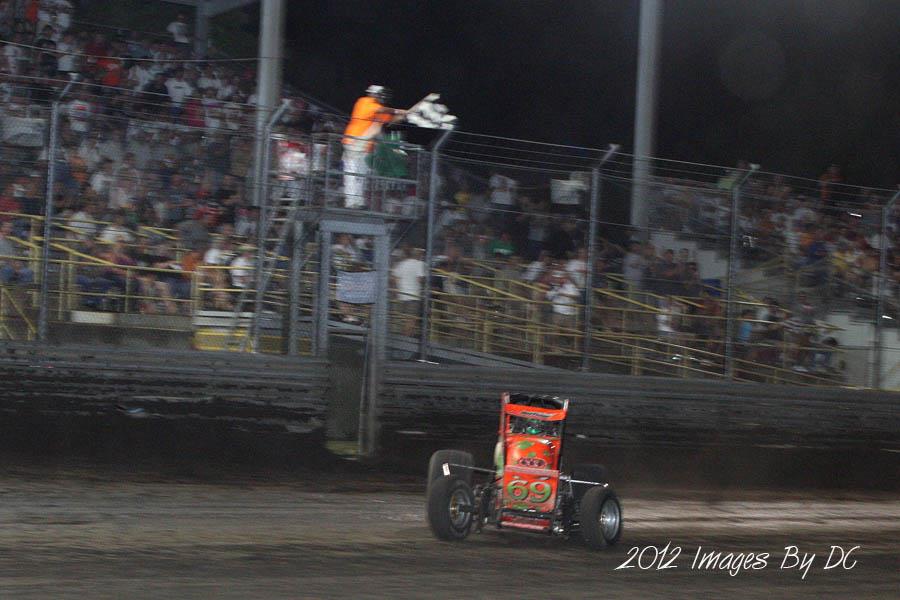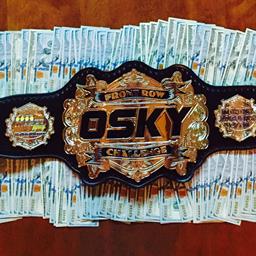 ---
Ultimate Challenge purse & awards posted for Tuesday August 6th
OSKALOOSA, IA (8/4/13) by DarinShort.com. The purse structure and awards are now posted for the 12th Annual Casey's General Stores Ultimate Challenge™ presented by Searsboro Telephone Company. The event for traditional sprint cars is USAC sanctioned and will be contested at the Southern Iowa Fairgrounds located in Oskaloosa, Iowa, this Tuesday, August 6th. The winged 305 sprint cars will also have a complete racing program of heats and feature races.
The Ultimate Challenge championship feature payback for USAC sprints is as follows: $10,000 – 4,000 – 2,000 – 1,500 – 1,400 – 1,200 – 1,100 – 1,075 – 1,050 – 1,000 – 800 – 700 – 650 – 625 – 600 – 575 – 550 – 525 – 500…through 22nd.
There are a tremendous amount of additional cash and prize awards now posted:
-The Keith Hutton King of the Hill Match Race, presented by TK Concrete, will pay the winner $1,000. 2nd place will receive a $500 gift certificate from Brown & Miller Racing Solutions. The top eight in USAC sprint car division points after the heat races will take part in this special event, which will also set the top four rows of the Ultimate Challenge feature event.
-All Pro Aluminum Cylinder Heads will be awarding a $500 gift certificate to each USAC heat winner.
-Hoosier Racing Tire will award a new right rear tire to each USAC heat winner.
-KSE Racing Products will present the Ultimate Challenge 'Hard Charger' award winner with a new power steering pump from KSE Racing Products.
-The Snap-on 'Mechanic of the Race' will receive a new Snap-on cordless impact set.
-Schoenfeld Headers will provide the winner of the USAC B-feature with a new set of Schoenfeld sprint car headers.
-Several other gifts and prizes will be awarded to teams and race fans alike.
-Not to be left out, the winner of the winged 305 sprint car feature will take home $750, plus a brand new racing suit from Hinchman Racing Uniforms, valued at $1,500.
Great seats are still available! Fans can purchase tickets to this event by contacting the Front Row Challenge Ent. LLC office at 515-957-0020. The office is open from 10:30AM-4:30PM (Central time). Tickets to this event are reserved, and are $25 for adults (ages 13 and up). Ages 12 and under are $15. The wildly popular "Infield Party Pass" is sold in advance for $20 for adults and just $5 for kids. The day of each event you can purchase an Infield Party Pass for $25. There are no changes in pricing from 2012.
USAC drivers can enter this race by calling the above number, prior to race day, for $50 (credit cards accepted). Driver entry on race day is $100.
Here's what's on tap for this year's must-see events at the Southern Iowa Speedway, held during the Cox Design and Metal Fabrication Inc. Southern Iowa Sprintweek:
Monday, August 5th – 18th Annual Musco Lighting Front Row Challenge (FRC) featuring a complete racing program for the Lucas Oil ASCS Sprint Car Dirt Series – featuring a massive $30,000 to win from the back! This is the first time the event has been sanctioned by ASCS and it will make for an exciting night of racing on the sweeping ½ mile track.
2010 Knoxville Nationals winner Tim Shaffer has already indicated he will be one of the many 'invaders' that will take on the national Lucas Oil ASCS drivers. Fans can expect a great field of cars, as the Arnold Motor Supply Knoxville 360 Nationals just wrapped up this past weekend.
The $30,000 'Front Row Challenge' bonus will also carry several new value-added components for 2013. The driver who accepts the Challenge will forfeit their front row starting position, start at the tail of the field and will be awarded various bonuses as they claw their way through the field…in addition to the $30,000 prize if they reach the finish line first. NASCAR Sprint Cup Series driver Tony Stewart will be taking on the Lucas Oil ASCS drivers as well.
Tuesday, August 6th – 12th Annual Casey's General Stores Ultimate Challenge (UC) presented by Searsboro Telephone Company, with the winner of the non-winged USAC Sprint Car feature race taking home a whopping $10,000! A complete program will be on tap for the USAC Sprint Cars, plus the Hinchman Racewear Winged 305 Sprint Cars will join the night's racing program and will run heats and a championship feature. Young Kyle Larson took home the UC honors in both 2011 and 2012, and fans can expect another top-flight group of the world's best non-winged sprint drivers for 2013.
Each event will also count for the "Jesse Hockett Mr. Sprint Car Title," which awards points beginning with the 23rd Annual Arnold Motor Supply 360 Knoxville Nationals through the 53rd Annual Knoxville Nationals.
There will be over $10,000 in prizes and giveaways to both drivers and race fans for each event; including a drawing for a TV to a lucky race fan each night. There will be more prizes, giveaways and Mardi Gras beads handed out than ever before.
Please click http://www.OskyChallenges.com for more information about these two stellar events. And by clicking http://www.darinshort.com/osky.html you can view a seating chart for Southern Iowa Speedway.
---
Article Credit: DarinShort.com
Submitted By: Darin Short
Back to News