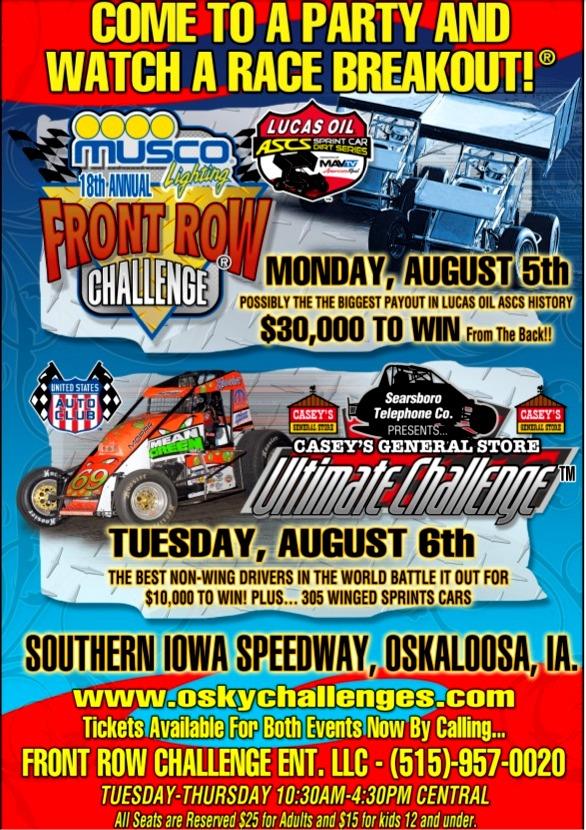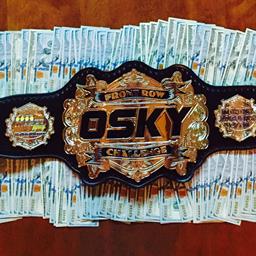 ---
Front Row Challenge/Ultimate Challenge – All Remaining Tickets Now For Sale
OSKALOOSA, IA (4/2/13) by DarinShort.com. Tickets are now on sale for the 18th Annual Musco Lighting Front Row Challenge® (August 5th) and 12th Annual Casey's General Stores Ultimate Challenge™ (August 6th) presented by Searsboro Telephone Company.
Fans can purchase tickets to each of these blockbuster events by contacting the Front Row Challenge Ent. LLC office at 515-957-0020.
The office is open weekly from 10:30AM-4:30PM (Central time) on Tuesday through Thursday. Renewal ticket orders went on sale two months ago.
Tickets to each event are reserved, and are $25 for adults (ages 13 and up). Ages 12 and under is $15 per event. The wildly popular "Infield Party Pass" is sold in advance for $20 for adults and just $5 for kids. The day of each event you can purchase an Infield Party Pass for $25. There are no changes in pricing from 2012.
Here's what's on tap for this year's must-see events, held during the Cox Design and Metal Fabrication Inc. Southern Iowa Sprintweek:
Monday, August 5th – 18th Annual Musco Lighting Front Row Challenge (FRC) featuring a complete racing program for the Lucas Oil ASCS Sprint Car Dirt Series – featuring a massive $30,000 to win from the back! This is the first time the event has been sanctioned by ASCS and it will make for an exciting night of racing on the sweeping ½ mile track.
2010 Knoxville Nationals winner Tim Shaffer has already indicated he will be one of the many 'invaders' that will take on the national Lucas Oil ASCS drivers. Fans can expect a great field of cars, as the Arnold Motor Supply Knoxville 360 Nationals wraps up just two days prior to the FRC.
The $30,000 'Front Row Challenge' bonus will also carry several new value-added components for 2013.
The driver who accepts the Challenge will forfeit their front row starting position, start at the tail of the field and will be awarded various bonuses as they claw their way through the field…in addition to the $30,000 prize if they reach the finish line first. Details of those prizes and awards will be announced as the race date draws nearer.
There will also be two sets of awards in the heat races. Besides the heat winners, each heat race will have an award for the Hard Charger, thus doubling the chances of taking home an added bonus.
Tuesday, August 6th – 12th Annual Casey's General Stores Ultimate Challenge (UC) presented by Searsboro Telephone Company, with the winner of the non-winged USAC Sprint Car feature race taking home a whopping $10,000! A complete program will be on tap for the USAC Sprint Cars, plus the Hinchman Racewear Winged 305 Sprint Cars will join the night's racing program and will run heats and a championship feature. Young Kyle Larson took home the UC honors in both 2011 and 2012, and fans can expect another top-flight group of the world's best non-winged sprint drivers for 2013.
Each event will also count for the "Jesse Hockett Mr. Sprint Car Title," which awards points beginning with the 23rd Annual Arnold Motor Supply 360 Knoxville Nationals through the 53rd Annual Knoxville Nationals.
There will be over $10,000 in prizes and giveaways to both drivers and race fans for each event; including a drawing for a TV to a lucky race fan each night. Remaining prizes will be announced prior to the event. There will be more prizes, giveaways and Mardi Gras beads handed out than ever before.
Get your tickets now for the Front Row Challenge and the Ultimate Challenge, you're sure to see two great nights of racing – and have a blast at the track!
Please click www.OskyChallenges.com for more information about these two stellar events. By clicking www.darinshort.com/osky.html you can view a seating chart for Southern Iowa Speedway.
---
Article Credit: DarinShort.com
Submitted By: Darin Short
Back to News