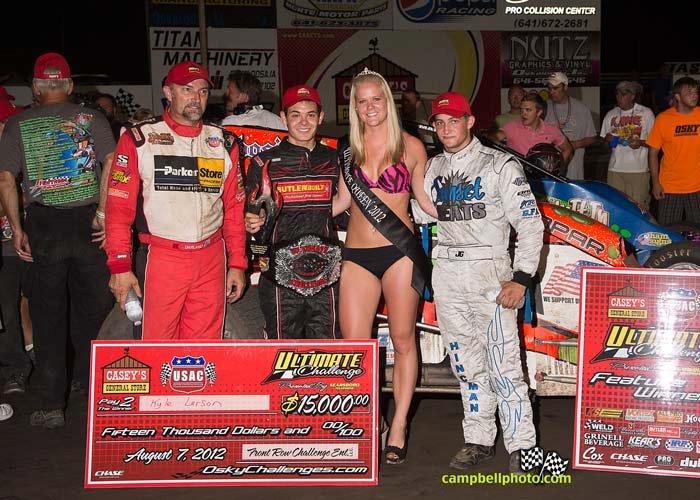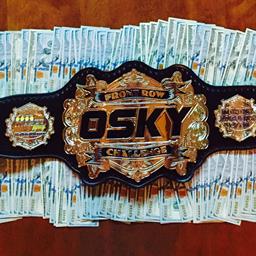 ---
Kyle Larson Jets to Second Ultimate Challenge Victory in a Row!
On the behalf of Lori & Terry McCarl, THANK YOU to all the sponsors, track workers, race teams and fans for their part in the 2012 Front Row Challenge & Ultimate Challenge!
Enjoy the rest of the Cox Design and Metal Fabrication Inc. Southern Iowa Sprintweek, as it concludes with the 52nd Goodyear Knoxville Nationals!
Here are the results and recap from last night, courtesy of Bill Wright:
Kyle Larson Jets to Second Ultimate Challenge Victory in a Row!
(Bill W) August 7, 2012 – "Young Money" Kyle Larson lived up to his nickname again, roaring to a second Ultimate Challenge victory in a row on Tuesday night at the Southern Iowa Speedway in Oskaloosa, Iowa. The 30-lap victory was worth a cool $15,000 to the Elk Grove, California native and the Hoffman Racing #69 sprint car team.
By virtue of his Dash win, Justin Grant started on the pole and pulled away from the field in the early going. There was little movement in the running order before a caution with six laps in the books for Kevin Thomas Jr. Grant led Thomas Meseraull, Dave Darland, Jerry Coons Jr. and Chris Windom back to green.
Restarting sixth, Larson shot to the low side in turns one and two, and by the time the next lap was complete, had shot forward to second. A caution was soon displayed for a stopped Brady Bacon, stacking the field again.
Larson took advantage of another restart and slid in front of Grant when the green fell. Darland, who restarted fourth, followed him into second and pursued the leader the rest of the way. With eight laps to go, Darland edged closer in traffic. With about five laps to go he showed a nose under Larson, but the youngster was undeterred and jetted on to the victory.
Darland followed, ahead of Grant, Windom and Coons. Meseraull, Bryan Clauson, Tracy Hines, Hard-charger Levi Jones and Jon Stanbrough rounded out the top ten.
In addition to his earnings, Larson was awarded a Winters Rear-end. Heat winners, Windom, Damion Gardner and Grant claimed Hoosier right rears. Grant also was awarded a set of Schoenfeld Headers for his Dash win. Daron Clayton was leading his heat when he fell out and scratched for the night. John Lemon awarded him $100 as a "Hard Luck Award".
Mike Van Haaften claimed the inaugural Hinchman 305 feature event. In addition to his $1,000 winnings, he also took home a customized Hinchman driver's suit valued at $1,600. Van Haaften led the 12-lap distance, ahead of Casey Friedrichsen, Matthew Stelzer, Alan Ambers and Billy Boles. Ryan Jamison, Mark Widmar, Rob Kubli, Dustin Clark and Cody Ambers rounded out the top ten.
Heat winners who were awarded contingencies included Alan Ambers, Derrik Lusk and Widmar. Alan Ambers was also awarded a nose wing kit from HRP at the driver's meeting and Levi Jones received a Hoosier right rear tire.
11th Annual Ultimate Challenge Results
A main (started), 30 laps: 1. 69, Kyle Larson, Elk Grove, CA (7) 2. 11, Dave Darland, Lincoln, IN (4) 3. 40, Justin Grant, Ione, CA (1) 4. 21, Chris Windom, Canton, IL (6) 5. 71P, Jerry Coons Jr., Tucson, AZ (2) 6. 5x, Thomas Meseraull, San Jose, CA (3) 7. 7, Bryan Clauson, Noblesville, IN (10) 8. 4, Tracy Hines, New Castle, IN (11) 9. 20, Levi Jones, Olney, IL (18) 10. 21x, Jon Stanbrough, Avon, IN (9) 11. 71, Damion Gardner, Concord, CA (5) 12. 32, Chase Stockon, Sullivan, IN (12) 13. 5, Shane Cottle, Kokomo, IN (20) 14. 69OT, Darren Hagen, Riverside, CA (13) 15. 22x, Geoff Ensign, Sebastopol, CA (17) 16. 97, Bret Mellenberndt, Sioux Falls, SD (19) 17. 99, Brady Bacon, Broken Arrow, OK (15) 18. 22, Casey Shuman, Tempe, AZ (14) 19. 9K, Kevin Thomas Jr., Coleman, AL (8) 20. 35, Hunter Schuerenberg, Sikeston, MO (16) 21. 71B, Robert Bell, Colfax, IA (22) 22. 55, Greg Clemons, Belton, MO (21) 23. 81, Robert Ballou, Rocklin, CA (23). Lap Leaders: Grant 1-7, Larson 8-30. Keith Hutton Hard-Charger Award: Jones.
Heat one (started), 10 laps: 1. Chris Windom (2) 2. Jerry Coons Jr. (3) 3. Jon Stanbrough (4) 4. Chase Stockon (5) 5. Brady Bacon (6) 6. Levi Jones (7) 7. Daron Clayton (1)
Heat two (started), 10 laps: 1. Damion Gardner (1) 2. Thomas Meseraull (3) 3. Tracy Hines (2) 4. Darren Hagen (5) 5. Hunter Schuerenberg (6) 6. Bret Mellenberndt (4) 7. Robert Ballou (7)
Heat three (started), 10 laps: 1. Justin Grant (2) 2. Kevin Thomas Jr. (6) 3. Bryan Clauson (3) 4. Casey Shuman (5) 5. Geoff Ensign (4) 6. Robert Bell (1) 7. Greg Clemons (7) DNS – Shane Cottle
Dash (started), 8 laps: 1. Justin Grant (1) 2. Jerry Coons Jr. (2) 3. Thomas Meseraull (3) 4. Dave Darland (4) 5. Damion Gardner (5) 6. Chris Windom (6) 7. Kyle Larson (8) 8. Kevin Thomas Jr. (7)
Hinchman 305 Results
A main (started), 12 laps: 1. 33, Mike Van Haaften, Pella, IA (2) 2. 20, Casey Friedrichsen, Arthur, IA (1) 3. 99, Matthew Stelzer, Omaha, NE (8) 4. 93A, Alan Ambers, Knoxville, IA (3) 5. 05, Billy Boles, Harris, IA (4) 6. 51J, Ryan Jamison, Mediapolis, IA (7) 7. 7w, Mark Widmar, Ottumwa, IA (6) 8. 71c, Rob Kubli, Milo, IA (14) 9. 16, Dustin Clark, Eldon, IA (10) 10. 92c, Cody Ambers, Knoxville, IA (12) 11. 29, Bart Friedrichsen, Arthur, IA (13) 12. 0, Mike Mayberry, Fremont, IA (17) 13. 93, Derrik Lusk, Jackson, MN (5) 14. 6, Mitchell Alexander, Knoxville, IA (11) 15. R99, Nick Ross, Oskaloosa, IA (15) 16. 85, Chase Warner, Agency, IA (9) 17. 15m, Brandyn Martin, Eldon, IA (16) 18. 07, Mike Harward, Floris, IA (19) 19. 5MR, Tim Rose, Burlington, IA (18) DNS – 612, Isaac Schreurs, Sioux Falls, SD, 55, Matt Stephenson, Des Moines, IA. Lap Leader: Van Haaften 1-12.
Heat one (started), 6 laps: 1. Alan Ambers (3) 2. Ryan Jamison (2) 3. Billy Boles (7) 4. Isaac Schreurs (1) 5. Mitchell Alexander (6) 6. Brandyn Martin (5) 7. Matt Stephenson (4)
Heat two (started), 6 laps: 1. Derrik Lusk (2) 2. Casey Friedrichsen (7) 3. Matthew Stelzer (4) 4. Bart Friedrichsen (1) 5. Nick Ross (3) 6. Rob Kubli (6) 7. Mike Mayberry (5)
Heat three (started), 6 laps: 1. Mark Widmar (1) 2. Mike Van Haaften (6) 3. Chase Warner (2) 4. Dustin Clark (3) 5. Cody Ambers (4) 6. Mike Harward (5) DNS – Tim Rose
---
Article Credit: Bill Wright
Submitted By: Darin Short
Back to News