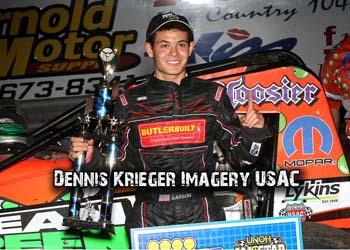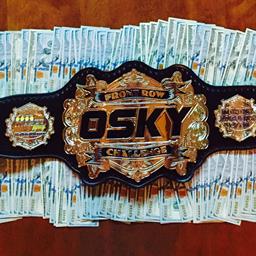 ---
8/7 RACE DAY UPDATE for $15k/win ULTIMATE CHALLENGE!
TUESDAY AUGUST 7th UPDATE:
IT'S RACE DAY at the $15,000 to win 11th Annual Casey's General Stores Ultimate Challenge (UC) presented by Searsboro Telephone Company at Southern Iowa Speedway in Oskaloosa!
Here's some quick reference notes:
Pit & infield party pass gates open at 3pm

Grandstands 5pm

Hot laps 7:15pm

Tonight's racing program includes a complete points program for the USAC Sprint Cars; plus for the first time, the Hinchman Racewear Winged 305 Sprint Cars will join the night's racing program and will run heats and a championship feature. Young Kyle Larson took home the UC honors in 2011 (and won the preliminary feature last night), and fans can expect another top-flight group of the world's best non-winged sprint drivers! There are no additional support divisions racing, this is a sprint car-only show. Kyle Larson and Dave Darland are locked into the feature from last night's qualifying action.

Like yesterday, dry conditions are forecast at race time, with 84 degrees and sunny expected at race time, with temps falling into the mid-70's throughout the evening.

Come to our party & watch a race break out!

Bring your own tents & spend the night! On-site camping is available.
For complete event details, directions, tickets, muffler rules and much more, click the event info hub at: http://hoseheadforums.com/forum.cfm?ThreadID=69706 or visit http://www.OskyChallenges.com & don't miss the finale of the $15,000 to win 11th Annual Casey's General Stores Ultimate Challenge presented by Searsboro Telephone Company for USAC non-winged Sprint Cars along with the Hinchman Racewear Winged 305 Sprints!
CONTINUE READING FOR LAST NIGHT'S RESULTS...
Daryn Pittman Dominates to Win His Second Front Row Challenge!
(Bill W) August 6, 2011 – Daryn Pittman picked up his second career Front Row Challenge victory Monday night at the Southern Iowa Speedway in Oskaloosa, Iowa. The Owasso, Oklahoma native drove the Pennsylvania based Heffner Racing #27, leading all 25 laps.
Pittman won the pole position by virtue of conquering the "King of the Hill" match race format, with his final victory coming at the hands of Brian Brown. Neither driver chose to take the front row challenge.
Pittman took off from the outset, leading Brown. With one lap in the books, Jason Meyers got sideways, collecting Brad Sweet, who retired. A pair of restarts failed to take, with the second claiming third place runner, Mark Dobmeier, who appeared to have something break, and slammed into the turn four wall. He was uninjured.
Once green, the restart saw Pittman leading Brown, Jonathan Allard, Ryan Bunton, Bryan Sebetto and Tim Kaeding. The last 24 laps would go non-stop. Pittman wheeled out front with Brown in pursuit. At the halfway mark, Pittman had a straightway lead as he was getting through lapped traffic, over Brown, Bunton, Kaeding and 12th starting, Kyle Larson.
While Pittman extended his lead, and Brown secured second, Kaeding moved into third on lap 15, and he was followed by Larson. Larson would get by Kaeding a lap later for the show position. Pittman won going away at the checkers, followed by Brown, Larson, Kaeding and Bunton. David Gravel, hard-charger Kaley Gharst, James McFadden, Tasker Phillips and Paul McMahan rounded out the field.
Heat winners included Gravel, Brown and Sweet. Dobmeier registered quick time of the night at 15.404 seconds.
Larson dominated the USAC main event, securing a spot in Tuesday's Ultimate Challenge. Dave Darland ran second, also locking himself into the $15,000 event.
Larson led the 20-lap distance in the Hoffman Racing #69 and is the defending champion of the event. Following Larson and Darland to the stripe were Robert Ballou, Brady Bacon and Levi Jones. Daron Clayton, Darren Hagen, Chris Windom, Chase Stockton and Jerry Coons Jr. rounded out the top ten. The passing points format was used, and Darland, Ballou and Jac Haudenschild won heat races.
Front Row Challenge heat winners received a nose wing kit from HRP and a $400 All Pro gift certificate. Gharst won a KSE steering pump as feature hard-charger. Bunton also received a HRP nose wing kit during the driver's meeting, with a Hoosier right rear tire going to Larson. USAC heat winners received a Hoosier left rear tire. Dale Blaney received $100 in hard luck money from John Lemon after blowing his motor in the heat race.
16th Annual Musco Lighting Front Row Challenge Results:
A main (25 laps, started): 1. 27, Daryn Pittman, Owasso, OK (1) 2. 21, Brian Brown, Grain Valley, MO (2) 3. 1K, Kyle Larson, Elk Grove, CA (12) 4. 83JR, Tim Kaeding, San Jose, CA (9) 5. 6R, Ryan Bunton, Morton, IL (4) 6. 89G, David Gravel, Watertown, CT (15) 7. 6, Kaley Gharst, Decatur, IL (19) 8. 55x, James McFadden, Brisbane, QLD, Aust. (11) 9. 7TAZ, Tasker Phillips, Pleasantville, IA (17) 10. 45, Paul McMahan, Nashville, TN (7) 11. 55, Trey Starks, Puyallup, WA (23) 12. 10, Sheldon Haudenschild, Wooster, OH (18) 13. 40, Caleb Helms, Findlay, OH (8) 14. 7x, Critter Malone, Speedway, IN (22) 15. 21m, Jason Meyers, Clovis, CA (10) 16. W20, Greg Wilson, Benton Ridge, OH (21) 17. 54, Cap Henry, Bellevue, OH (20) 18. 1s, Logan Shuchart, Hanover, PA (16) 19. 0, Jonathan Allard, Chico, CA (5) 20. 19, Lee Grosz, Fargo, ND (24) 21. 24H, Bryan Sebetto, Fremont, OH (6) 22. 13, Mark Dobmeier, Grand Forks, ND (3) 23. 49, Brad Sweet, Grass Valley, CA (14) DNS – 7K, Jeff Swindell, Bartlett, TN (13), 2, Dale Blaney, Hartford, OH, 83, Tim Shaffer, Aliquippa, PA. Lap Leader: Pittman 1-25. Hard Charger: Gharst.
Fast time: Mark Dobmeier, 15.404.
"King of the Hill" Match Race Winner: Daryn Pittman
Heat one (started), 8 laps: 1. David Gravel (1) 2. Kyle Larson (2) 3. Paul McMahan (4) 4. Mark Dobmeier (6) 5. Jason Meyers (3) 6. Jonathan Allard (5) 7. Sheldon Haudenschild (7) 8. Trey Starks (9) 9. Cap Henry (8)
Heat two (started), 8 laps: 1. Brian Brown (5) 2. Ryan Bunton (6) 3. Caleb Helms (4) 4. Lee Grosz (8) 5. Logan Shuchart (1) 6. Jeff Swindell (2) 7. Greg Wilson (7) 8. Dale Blaney (3) DNS – Tim Shaffer
Heat three (started), 8 laps: 1. Brad Sweet (2) 2. Tim Kaeding (4) 3. Tasker Phillips (1) 4. James McFadden (3) 5. Bryan Sebetto (6) 6. Daryn Pittman (5) 7. Kaley Gharst (7) 8. Critter Malone (8)
USAC Non-Winged Sprint Cars - Top 2 Lock in to Tuesday's $15,000 to win Ultimate Challenge:
A main (started), 20 laps: 1. 69, Kyle Larson, Elk Grove, CA (1) 2. 11, Dave Darland, Lincoln, IN (2) 3. 81, Robert Ballou, Rocklin, CA (3) 4. 99, Brady Bacon, Broken Arrow, OK (8) 5. 20, Levi Jones, Olney, IL (5) 6. 92, Daron Clayton, Sikeston, MO (17) 7. 69OT, Darren Hagen, Riverside, CA (7) 8. 21, Chris Windom, Canton, IL (11) 9. 32, Chase Stockon, Sullivan, IN (15) 10. 71P, Jerry Coons Jr., Tucson, AZ (12) 11. 5x, Thomas Meseraull, San Jose, CA (14) 12. 22, Casey Shuman, Tempe, AZ (13) 13. 97, Bret Mellenberndt, Sioux Falls, SD (20) 14. 71x, Robert Bell, Colfax, IA (22) 15. 5, Shane Cottle, Kokomo, IN (21) 16. 71, Damion Gardner, Concord, CA (16) 17. 40, Justin Grant, Ione, CA (16) 18. 0, Brian Stevenson, Holstein, IA (19) 19. 7K, Jac Haudenschild, Wooster, OH (4) 20. 21x, Jon Stanbrough, Avon, IN (9) 21. 7, Bryan Clauson, Noblesville, IN (10) 22. 22x, Geoff Ensign, Sebastopol, CA (18) DNS – 88, Terry Babb, Decatur, IL. Lap Leader: Larson 1-20. Hard-charger: Clayton.
Heat one (started), 8 laps: 1. Dave Darland (2) 2. Darren Hagen (1) 3. Jon Stanbrough (3) 4. Levi Jones (8) 5. Chase Stockon (4) 6. Damion Gardner (5) 7. Brian Stevenson (6) 8. Robert Bell (7)
Heat two (started), 8 laps: 1. Robert Ballou (1) 2. Kyle Larson (6) 3. Bryan Clauson (3) 4. Jerry Coons Jr. (5) 5. Casey Shuman (7) 6. Geoff Ensign (4) 7. Shane Cottle (2) DNS – Terry Babb
Heat three (started), 8 laps: 1. Jac Haudenschild (1) 2. Justin Grant (2) 3. Chris Windom (3) 4. Brady Bacon (6) 5. Thomas Meseraull (7) 6. Daron Clayton (5) 7. Bret Mellenberndt (4)
---
Article Credit: DarinShort.com
Submitted By: Darin Short
Back to News